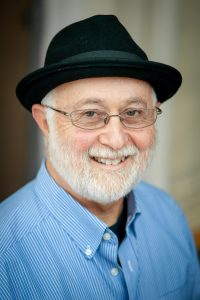 Richard Chess is the author of four books of poetry, Love Nailed to the Doorpost (University of Tampa Press 2017), Third Temple (University of Tampa Press 2007), Chair in the Desert (University of Tampa Press 2000), and Tekiah (University of Georgia Press 1994; reissued by University of Tampa Press 2002). His essays have appeared in Stars Shall Bend Their Voices: Poets' Favorite Hymns & Spiritual Songs, The Carolina Table: North Carolina Writers on Food, 27 Views of Asheville, and elsewhere. He has been a regular contributor of IMAGE's blog "Good Letters" for many years.
He has served as writer-in-residence at the Brandeis Bardin Institute and as a member of the faculty of the Jewish Arts Program at Isabella Freedman Jewish Retreat Center. He has directed UNC Asheville's Center for Jewish Studies since 1992. At UNC Asheville, he is the Roy Carroll Professor of Distinguished Arts & Sciences. He was one of the founders of UNC Asheville's contemplative inquiry initiative.
---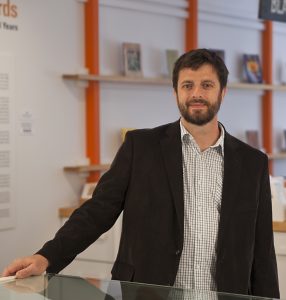 Jeff Arnal has worked in the arts and nonprofit sector for the past two decades. He was appointed executive director of Black Mountain College Museum + Arts Center in June 2016. Previously, he worked as a senior specialist for the Pew Center for Arts and Heritage, a subsidiary of the Pew Charitable Trusts in Philadelphia. In 2000 he co-founded Improvised and Otherwise, an interdisciplinary festival for emerging artists in Brooklyn, NY. As a composer and percussionist he has performed and collaborated with a wide range of musicians and choreographers throughout the U.S. and Europe. He has received grants and fellowships from Art Omi International, ASCAP, Brooklyn Arts Council, and Meet the Composer. His music can be heard on a number of independent record labels including Clean Feed in Portugal and Leo Records in England. Arnal earned his MFA in music from Bennington College, his BA in interdisciplinary studies: music composition and filmmaking from the University of Maryland, and he studied percussion at The Peabody Conservatory in Baltimore.
---
Black Mountain College Museum + Arts Center
The Black Mountain College Museum + Arts Center preserves and continues the legacy of educational and artistic innovation of Black Mountain College (BMC). It achieves its mission through collection, conservation, and educational activities including exhibitions, publications, and public programs. Arts advocate Mary Holden founded BMCM+AC in 1993 to celebrate the history of Black Mountain College as a forerunner in progressive interdisciplinary education and to explore its extraordinary impact on modern and contemporary art, dance, theater, music, and performance. Today, the museum remains committed to educating the public about BMC's history and raising awareness of its extensive legacy. Its goal is to provide a gathering point for people from a variety of backgrounds to interact through art, ideas, and discourse. Learn more at www.blackmountaincollege.org.
UNC Asheville
UNC Asheville transforms lives through leadership and education. The designated liberal arts and sciences institution for the UNC System and one of the nation's top 10 public liberal arts universities, UNC Asheville enrolls 3,800 students and offers more than 30 undergraduate majors and a Master of Liberal Arts and Sciences degree. UNC Asheville also encourages students to take part in a nationally acclaimed undergraduate research program and participate in interdisciplinary learning. From internships and hands-on projects, to study abroad and community engagement, students experience an education that extends beyond campus into the vibrant City of Asheville, the surrounding Blue Ridge Mountains and the world.